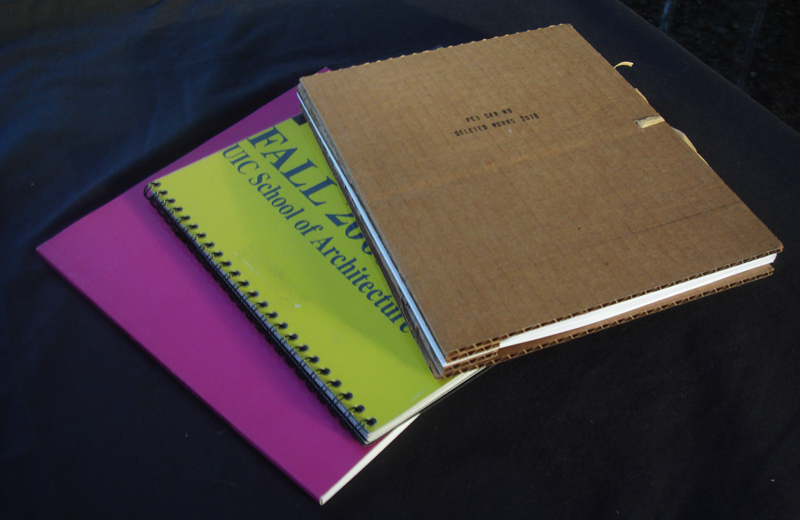 These are books I have created, specifically the print version of my portfolio.  The cardboard was created last week.  The pink one was created back in 2008 and the yellow one was created back in 2006.
The cardboard portfolio came about by me wanting to produce a book with a great deal of analog craft, with a feel of creation by the hand.  In addition, in recession times, I wanted to create a book that is near zero dollar to produce.  The card board cover was found in my studio, along with the cover text stamp.  I did have to purchase the binding screw posts (100 count/$14), legal size paper (folded in half to get thickness and double sided-ness, 500 sheets/$10) and raffia ribbons (60 yard/$2).  In total, a single book only costs me about 60 cents.
The cardboard book contains 12 pages, 3 projects.  The beneficial part of using screw post bindings is that I can switch out projects or add more pages by switching the screw post size.  The cover could be any found cardboard with the potential of integrating existing graphics from the cardboard.
The yellow portfolio was made for the annual UIC Portfolio Day.  This was produced after my first semester at architecture graduate school.  It contains projects from first design and technical (building science) courses.  The book was printed on hard stock and the black double coil binding was outsourced, done by local printing company.  This book was selected for Portfolio Day exhibition and won the Faculty Choice Award.
The pink portfolio contains most of my projects from school.  The book was produced by online publishing company (lulu).  To download for free or to buy a copy for $21, click here.