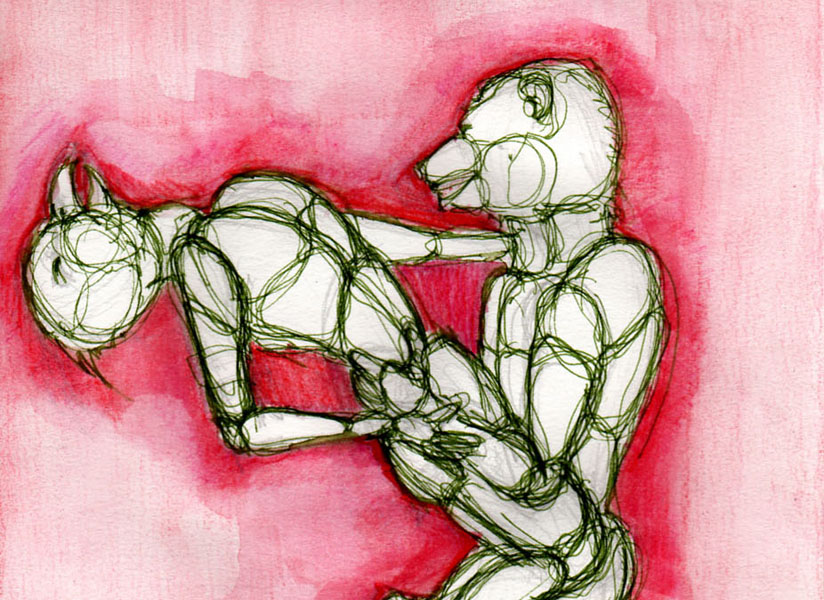 These drawings were done for Chicago Art Department's City Study class.  The premise of the class is to make art during the Bears football game.  We are to make art about the cities that the Bears is playing against that Sunday or Monday.  The class is a reason for us to get together, do something that we all like, which is to watch football and make art and why not do those two activities together.  The art making session follows the format of the game thus we also get a half-time break.
The series that I choose to do is called "Mascot-sutra".  I choose to stay close to the football theme.  My city study became about the city's football mascot.  When I watch football, I could not get over the imagery of grown men in tights wrestling and grunting together.  And depending on which team is winning or losing that dictated who gets the dominate or inferior position.  The medium is ink and watercolor.
I only have five drawings because as we all know that the Bears did not do so well this season.  It was getting harder and harder to get together and watch our favorite team lose week after week.  Eventually, we stop getting together.
An interesting fact, the first drawing that I did is actually not a karma sutra pose.  Instead it was a "Dirty Dancing" pose however it was so sexual that it became a sex pose.  The rest of the drawings just followed suit and that's how the mascot-sutra came about.  The order of the drawings are as such: Chicago Bears vs. Seattle Seahawks, Bears vs. Atlanta Falcons, Bears vs. Arizona Cardinals, Bears vs. Detroit Lions, and lastly Bears vs. Cincinnati Bengals.  The class was featured on the Chicago News Cooperative (see last photo).